Welcome to Kemp's Video Newsroom
---



Grandparents Safety Lecture
Learn about fall prevention, pediatric safety for grandparents and the CarFit program, an educational program that offers seniors the opportunity to check how well their personal vehicles "fit" them.



Nanotechnology Discussion with Dr. Sara Brenner
February 6th, 2012 - Senator Hannon speaks with Dr. Sara Brenner, Assistant Vice President for NanoHealth Initiatives, SUNY Albany, about a new, state-of-the-art technology -- Nanoscale Science and Engineering.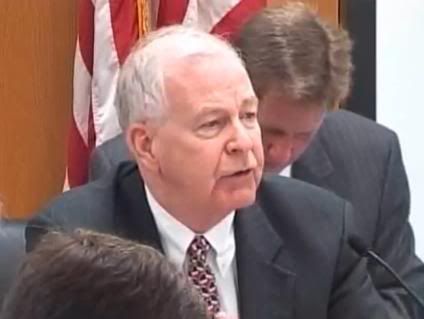 Eastern Equine Encephalitis in New York State
October 13th, 2011 - Senator Hannon speaks at a forum in Oswego's County Legislature Chamber about the state and local response to Eastern Equine Encephalitis in Central New York.





Is getting a tan worth getting cancer?
April 20th, 2011 - Dr. Applegate and Senator Hannon discuss how teens and parents refuse to accept that tanning can result in premature deaths.



Could It Be Autism?: What Parents Need to Know
April 11th, 2011 - Senator Hannon sits down with Janine Kruiswijk, Executive Director of Autism Society of the Greater Capital Region, to discuss the important signs of and treatments for Autism.




Improving Maternal and Infant Health
It may be the shortest journey, but birth is arguably the most difficult journey we take. Senator Kemp Hannon and Dr. Mary Applegate discuss the importance of improving maternal health and infant health.




Legislative Report: Concussion Management Awareness Act
March 21st 2011 -

On this episode of Legislative Report, Assistant Director of the New York State Public High School Athletic Association Todd Nelson and Senator Hannon discuss the significance of the Concussion Management Awareness Act.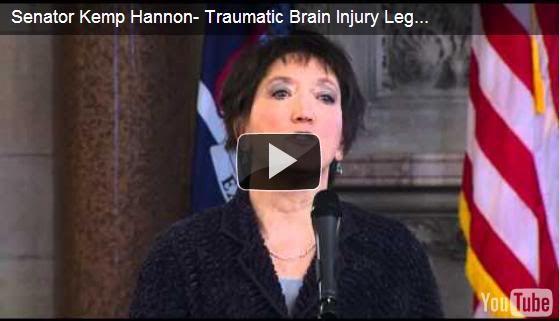 Hannon Announces Concussion Management Awareness Act
March 16th 2011- Senator Kemp Hannon announces significant legislation to direct the State Health and Education Departments to adopt rules and regulations for the treatment and monitoring of students with mild traumatic brain injuries.



Legislative Report: The TRUTH about Eating Disorders and our teens
March 14th 2011 -Senator Hannon and Director of the Metro Region's Comprehensive Care Center for Eating Disorders

at New York Presbyterian Hospital

Dr. Evlyn Attia

discuss the terrifying reality of eating disorders in America.



Hannon Commenting on Capitol Tonight
July 1st, 2010 - Senator Hannon, on TV's "Capitol Tonight," criticizes Democrat Senators for leaving Albany with budget incomplete.



Hannon Reveals that Savino's Legislation is Costly to Taxpayers
June 30th, 2010 - While Senator Savino says S5628A (which allows certain members of the NYS & local employees' retirement system to purchase and obtain additional service credit) will not be a burden on taxpayers, Senator Hannon reveals the truth.






Senator Hannon on the Latest Health Care Cuts
June 7th, 2010 -

On the Senate floor, Senator Kemp Hannon says the latest cuts to health care were developed and discussed behind closed doors and were an outright bad decision.





Legislative Report with Senator Kemp Hannon - Nursing Homes
June 1st, 2010 - Senator Hannon speaks to the CEO of Capital Living and Rehabilitation Centers, Patrick Martone about how to select the right nursing home for your loved one.



Veterans Hall of Fame
June 1st, 2010 - Senator Hannon speaks at the Veterans Hall of Fame, specifically honoring John C. Donovan from Garden City.




Legislative Report with Senator Kemp Hannon - Furloughs
Senator Kemp Hannon and Director of the Empire Center for New York State Policy Edmund J. McMahon discuss the controversy over the legality of furloughs and well as freezing money for public employees.





Senator Hannon hosts Storm Preparedness Roundtable for Long Island
A clip from Senator Hannon's Store Preparedness Roundtable in response to the March 2010 nor'easter.




Senator Hannon Stands Strong Against Cyberbullying
May 4th, 2010 - Senator Hannon continues to push for New York to enact his proposed anti-Cyberbullying legislation. The Senator joins with students during an Albany press conference.




Legislative Report with Senator Kemp Hannon - Small Businesses
May 3rd, 2010 - Senator Kemp Hannon and NYS Director of the National Federation of Independent Business, Mike Elmendorf, discuss the need to reduce the tax burden on small businesses in order to stimulate job creation.



Legislative Report with Senator Hannon - Cyberbullying
April 26th, 2010 - Senator Kemp Hannon continues to bring Cyberbullying to the forefront of State and Local concerns that must be addressed immediately.

Senator Hannon Explains Vote Regarding Budget Extender
April 19th, 2010 - Senator Kemp Hannon says the total absence of any significant work by the Senate Majority on this budget is going to lead to a point of revenue raising and it's completely unacceptable.




Combating Medicaid Fraud
March 2010 - Medicaid Fraud Task Force Chairman Kemp Hannon releases the initial report of the Senate Republican Task Force on Medicaid Fraud and Reform to save taxpayers up to $500 million a year





Calling for Accountability in Albany
2009 - Senator Hannon urges fellow legislators to vote wisely on the budget, "because if you vote for it, you're responsible... this is where the buck stops."





Addressing the Lack of Transparency and Process in Albany
2009 - Senator Kemp Hannon correcting the record and emphasizing the importance of conference committees with discussions and presentations for public viewing, which is missing from the process in Albany's government this year.